*Updated* Local Newspapers Rally Against Pombo, In Favor of McNerney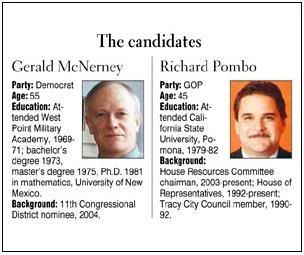 (
Inside Bay Area
)
"
Even gerrymandering can't guarantee the re-election of California Republican Congressmen Richard Pombo and John Doolittle. Many voters have had it with their money-grubbing and their party's influence-peddling. It's about time.
" (
source
)
"
Doolittle, who's seeking his ninth term, has had a safe seat in a majority Republican district running from the Oregon and Nevada borders to northeastern Sacramento. The same is true with Pombo, seeking his eighth term in a Central Valley district that reaches into Morgan Hill.

But not this year. Both have been singed by their association with convicted super-lobbyist Jack Abramoff and by their own fundraising and spending practices.

---clip---

Doolittle and Pombo rose to leadership positions under DeLay and have been enmeshed in the web of corporate lobbyist ties that he established.

Five years ago, Doolittle and Pombo interfered with an investigation by the Federal Deposit Insurance Corp. into a failed savings and loan owned by Texas businessman Charles Hurwitz, a major GOP donor. In what an FDIC spokesman called ``a seamy abuse of the legislative process,'' Doolittle and Pombo introduced sensitive documents into the Congressional Record to damage the government's case.

In a practice that Congress should ban, Pombo encourages industries that lobby his committee to pay staff junkets to places like Atlantic City. Those expenses totaled $197,000 between 2003 and 2005. More than 40 businesses and trade groups hosted a grand ``Pombo Palooza'' at the 2004 national GOP Convention.
" (
source
)
"
Both Doolittle and Pombo also put relatives on campaign payrolls -- a practice that, while not illegal, should be discouraged. Pombo's brother Randall, his campaign's treasurer, has received an average of $43,000 a year since 1992. His wife, Annette, has been listed as a consultant since 2003, earning an average $48,000 a year.
" (
source
)
"
Doolittle and Pombo embody Washington's incestuous political culture. By throwing them out, voters would signal the need for change.
" (
source
)
"
During his 14 years in the House of Representatives, Richard Pombo ... has earned other types of support — significant contributions from development interests, Indian gaming tribes, oil companies, foreign mining concerns and some of the most corrupt people in Washington, D.C. To earn that support, Pombo has embraced potentially disastrous environmental policies; suggested selling off national parks; tried to engineer giveaways of natural resources, and embraced drilling for oil in the Arctic National Wildlife Refuge and off both coasts. The Resources Committee he chairs has made a few favored gaming tribes extraordinarily wealthy.

All have returned his support in the form of contributions. Various lists put contributions to Pombo at $7.3million during his congressional career — including mountains of money raised at lavish events hosted by lobbyists and those who have business with his committee. He has taken money from admitted political fixer Jack Abramoff, and he was a protégé of disgraced House Majority Leader Tom DeLay.

Their support has cost him ours. We can no longer embrace a politician who appears to put special interests ahead of the interests of his district. It's also troubling that one watchdog group listed Pombo among Washington's 20 most corrupt representatives.

Instead, The Bee endorses Democrat Jerry McNerney of Pleasanton. He is a political neophyte, a Ph.D. engineer who attended West Point, once worked at Sandia National Laboratories and now owns a windpower company. He wants to develop alternative energy to create power and jobs. Wonkish and facing a charisma deficit, he has so far eschewed big corporate contributions — meaning he will be thoroughly outspent.

This, like any election with an incumbent, is a referendum. While Pombo has been effective in a few high-profile issues — such as helping to broker a settlement on re-watering the San Joaquin River — he has worked even harder for a host of special interests. He is at the diseased heart of the quid-pro-quo process that defines Washington politics today. To send him back to the Capitol endorses a system we can no longer tolerate.
" (
More-At-Source
)
Modesto Bee
:
Out with Pombo,in with McNerney
(
source
)
Mercury News
:
Pombo, Doolittle "deserve defeat Nov. 7"
(
source
)
SFBG
:
Defeating Pombo
(
source
)
Daily Review
:
Pombo faces area's only serious House race
(
source
)
*Updated*
Jerry's Blog
:
BREAKING: The Independent endorses McNerney!
(
source
)