McNerney Calls on Pombo to Demand Hastert's Resignation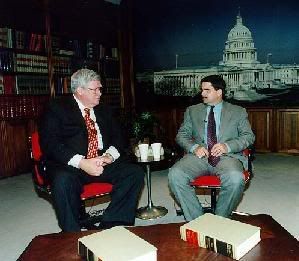 McNerney Calls on Pombo to Demand Hastert's Resignation
Hastert, Foley money aids Pombo's re-election campaign

"Jerry McNerney called on Richard Pombo today to demand Dennis Hastert resign as Speaker of the House Republican leadership. McNerney also challenged Pombo to return at least $30,000 Hastert raised for him at a May 2006 fundraiser in Acampo and the undisclosed amount Hastert collected for Pombo at an August 2005 event in Monterey.

Finally, McNerney demanded Pombo request the National Republican Campaign Committee (NRCC) donate Mark Foley's $100,000 contribution to charity and refuse to appropriate as its own the more than $2 million that remains in Foley's campaign account. After twice polling the district, the NRCC recently spent nearly $500,000 attacking Jerry McNerney.

Foley resigned from Congress in disgrace after it was reported he had made sexual advances toward Congressional pages, high school students who spend a semester working in Washington. According to press reports, Hastert was aware of Foley's predatory behavior for months if not years, but took no action to protect pages from the Congressman's inappropriate communications. Rather than immediately come clean about what he knew and when he knew it, Hastert has since Foley's resignation alternated between pleading ignorance and expressing indignation, and between outright denial and partial disclosure.

"Richard Pombo isn't just for sale, he's on clearance," said McNerney. "For more than a week, Pombo has remained silent about Dennis Hastert's failure to protect 16- and 17-year old Congressional pages from Mark Foley's predatory behavior. Could Pombo be more concerned with holding on to power than he is with protecting America's children? Yes, but I'd rather give him the benefit of the doubt."

"Pombo isn't as callous as is he is corrupt. Having taken Hastert's money and benefitting from attacks funded in part by Foley's funds, Pombo can't bring himself to hold the Republican leadership accountable. Let me make it easy for him. Pombo should call for Hastert to resign as Speaker, return the money Hastert helped him raise, and demand national Republicans stop spending Mark Foley's money on mailings attacking Jerry McNerney. Silence, Mr. Pombo, is complicity." (source)
AP: Pombo criticized over page scandal - Democratic challenger calls on lawmaker to seek House speaker's resignation, return campaign funds (source)