Bush Fundraises for California's Most Corrupt Republican Congressmen, Hundreds Protest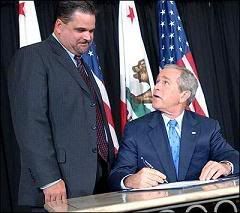 (
Record
)
CC Times
:
"
The ties that bind President George W. Bush and GOP Rep. Richard Pombo were on stark display today.

Outside the old Civic Auditorium where the president appeared at a Pombo campaign fund-raiser breakfast, several hundred protesters shouted and called the men's shared ideology a disgrace.

Inside, Bush and Pombo clasped each other's shoulders before a crowd of 650 enthusiastic contributors as the president called the congressman a valued Republican...
" (
source
)
Assosciated Press
:
"
President Bush attacked Democrats on terrorism Tuesday as he juggled questions about the congressional page scandal and campaigned for two congressmen with links to disgraced lobbyist Jack Abramoff.
---clip---
Both Doolittle and Pombo have ties to Abramoff, the former powerhouse lobbyist at the center of a Washington corruption scandal.

Pombo, chairman of the powerful House Resources Committee that writes environmental laws, took campaign money from Abramoff and his clients and helped an Indian tribe represented by Abramoff. Pombo later gave away the money that came directly from Abramoff.

And Doolittle's ties to Abramoff have been a theme of his Democratic opponent, Charlie Brown, as he tries to unseat the eight-term incumbent in a district where Republicans hold a 48-to-30 percent registration edge over Democrats.

---clip
Bush raised an estimated $400,000 at the Pombo breakfast and another $600,000 at the Doolittle luncheon. He was to appear Tuesday night at a GOP fundraiser in Beverly Hills.
" (
more-at-source
)
The Record
has lots of coverage
Here
-
President Bush Visits Stockton
.


The Record
also has pictures
Here
.


Tri-Valley Dems
also have
Pictures Here
.
KCRA 3
has a Video News Report up
Here
-
Bush Greeted By Supporters, Criticized By Protestors
.


Other Bush/Pombo Coverage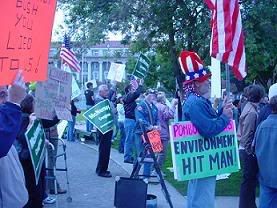 (
Tri-Valley Dems
)
"
THE PRESIDENT
: Thank you all very much. Thanks a lot. Please be seated. I don't want your eggs to get cold. (Laughter.) Mr. Chairman, thank you for welcoming me to your district. I'm proud to be here on behalf of Richard Pombo, and I'm proud to be able to tell the people of the state of California, he's doing a fine job for the people of this district. (Applause.)
" (
source
)
AP
:
Amid ethics scandals, Bush lobbies for GOP congressmen
(
source
)
CC Times
:
Bush stumps for Pombo in Stockton
(
source
)
ABC
:
Democrats Use Bush's Visit to Draw Attention to Campaigns
(
source
)
CC Times
:
Pombo, Doolittle welcome Bush
(
source
)
Tracy Press
:
Bill-signing in Stockton
(
source
)
Record
:
Bush motorcade bypasses protesters (9:30 a.m.)
(
source
)
Yahoo
:
Remarks by President Bush at Richard Pombo for Congress Breakfast
(
source
)
Other Campaign News

(
Record
)
"
A new poll released Monday presents further proof that Rep. Richard Pombo, R-Tracy, is in a tight race with challenger Jerry McNerney.

Conducted by well-known Democratic pollster Greenberg Quinlan Rosner, the survey of 413 likely voters done last week shows McNerney leading Pombo 48 percent to 46 percent; this is within the poll's margin of error, so the two are in a statistical dead heat.
" (
source
)
"
Bush's approval rating in California dropped to 29 percent in last week's Field Poll - even one in four Republicans says he's doing a poor job.
" (
source
)
"
The survey also found:

» Fifty-two percent think Pombo "puts corporate interests over the people's interests."

» Forty-six percent think Pombo "is too close to lobbyists," while 29 percent say he's not.

» Forty-three percent think Pombo "is too close to oil and gas companies," while 31 percent think he is not.
" (
source
)
Record
:
Poll shows Pombo, McNerney just 2 points apart
(
source
)
CQ Politics
:
Competitive Race Lies Beneath Flurry of GOP Activity in Calif. 11
(
source
)
CC Times
:
Rivals stress flaws in race for House
(
source
)