Another Week, Another Oil Scandal For Pombo
Ang
:
Dems accuse Bush, Pombo of letting big oil steal billions
(
source
)
"
An East Bay congressman and other Democrats blasted the Bush administration and the House Resources Committee — chaired by another local lawmaker — on Thursday for letting oil companies rob taxpayers of billions in royalties. Rep. George Miller, D-Martinez, and six other Democrats sent letters to committee chairman Richard Pombo, R-Tracy, and to a House Appropriations subcommittee chairman urging them to hold hearings on the Interior Department's failure to pursue the money.
The New York Times reported Thursday that four government auditors who monitor leases for oil and gas on federal property have sued, claiming the Interior Department quashed their efforts to recover money due the public. This news came atop lawmakers' previous concerns over royalty-free contracts and oil companies' short payments.
"There have always been schemes by various oil companies and gas companies to reduce their royalty payments and make nonpayments . . . but this is really the first time we've seen the federal government become part of that scheme," Miller charged Thursday on a conference call with reporters, noting Democrats' earlier calls for an accounting went unheeded.
"What you see is a pattern of corruption" both within the private sector and in government, he said. "If they keep acting like this, we're going to have to get two sets of handcuffs.
"" (
More-At-Source
)
Record
:
Oily mess ahead for Pombo
(
source
)
"
Miller and his allies - including Pombo's challenger, wind-energy consultant Jerry McNerney - want oil companies such as Chevron to renegotiate contracts they inked with Clinton administration officials that failed to include language requiring the firms to pay taxes when oil prices pass $36 a barrel.Current prices are around $60 a barrel but reached $76 a few months ago.
---clip---
Pombo's committee has had frequent contact with the department in recent years.He had two Interior Department staffers working for his Resources Committee on mining and oil issues for more than two years; one helped develop part of the offshore oil-drilling legislation now under debate.Critics cited this as an example of a compliant Congress doing the Bush administration's bidding. Kennedy dismissed the claim, saying Pombo has always supported increased drilling.Pombo also made headlines last year when his committee staff pressured Kempthorne's predecessor to exclude U.S. Department of Fish & Wildlife officials - who were concerned about bird deaths - from discussions about new wind energy regulations; Pombo's family earns money leasing land in the Altamont to wind firms.
" (
More-At-Source
)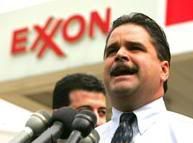 How Much Has Richard Pombo Taken From Big Oil?
"In response to LCV's endorsement, Jerry McNerney pointed out that Richard Pombo has received more than $400,000 from Big Oil." (
source
)
(cartoon courtesy of
Defenders of Wildlife
)