McNerney Up - Bush/Pombo Down - News & Events
Action & Events
"Come Protest George W. Bush's Fundraiser for Pombo on October 3
As you may have heard, President George W. Bush is holding a fundraiser for Pombo on Tuesday, October 3 in Stockton. The Bush-Pombo breakfast doors open at 7:00 AM with breakfast at 8:00 AM.

A large protest is being organized by various Democratic clubs and labor, environmental, and peace organizations at 6:30 AM in King Plaza, between N. Center St. and N. El Dorado, which is across the street from the Stockton Memorial Civic Auditorium.

Defenders of Wildlife Action Fund will be present with signs critical of Pombo and supporting McNerney.

Separately, we have scheduled a press event with Sierra Club to highlight Bush, Pombo, and the Big Oil scratching each other's back (quite literally) at 9:00 AM. If you would like to participate in this press event, please let us know." (Defenders of Wildlife email) Contact Defenders of Wildlife Here.
"The Big "Debate": McNerney vs. Pombo on Thursday
The forum will start at 7 p.m. at Poet Christian School, 1701 S. Central Ave., in Tracy.
McNerney supporters -- this is your chance to show up and support Jerry. Tracy supporters of Jerry McNerney will be out in force on Thursday night, from the Tracy Democratic Club to Tracy DFA. Join them!" (
more-at-source
)
Walk or Phone for McNerney!
Defeat Pombo Day of Action
"Join
Defenders of Wildlife Action Fund
and other local groups and activists for the "Defeat Pombo Day of Action" on Saturday, October 7, 2006 at 10:00 AM.With your help, we can educate swing voters in the 11th Congressional District about Richard Pombo's corrupt ties to special interests.
There are 2 areas where you can join us:
Tri-ValleyMeet: Civic Park, 100 Main Street, Pleasanton, CA 94566
Tracy Meet: Gaili Park, 1900 Orchard Parkway, Tracy, CA 95377" (
more-at-source
)
Tell your friends and family about Jerry McNerney's candidacy.
Write a Letter to the Editor
Jerry McNerney - Democrat for Congress


(photo:
SF Chron
)
"
Despite being heavily outspent by Pombo and getting attacked in recent weeks, Jerry McNerney has successfully maintained his lead over Pombo since the last poll we conducted in May for Defenders of Wildlife Action Fund. Currently, McNerney garners the support of nearly half the electorate (48 percent) and continues to lead Pombo, who only attracts 46 percent of the vote. The race is essentially unchanged from our May survey, though there are now even fewer undecided voters (only 6 percent), leaving Pombo with very little room to increase his support.
" (
source
)
SNTP
: Pombo Trails McNerney in New CA-11 Poll (
source
)
Jerry's Blog
: Letter to the Editor: "Republicans back Pombo's Rival" (
source
)
Jerry's Blog
: Thank You! (
source
)
Richard Pombo - Exxon-Mobil for Congress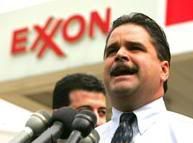 "
Brace yourself for McNerney hit piece number ten. That's right, the NRCC reported yet another $38,475
independent expenditure
yesterday, bringing their anti-McNerney spending in CA-11 to $386,913. If you add in the $37,145 they've spent doing polling for Richard Pombo which is apparently so bad that they're afraid to release the results, that brings the grand total that the NRCC has spent in the last two months in CA-11 to $424,058.DCCC spending, still zero.
" (
source
)
CA 11 Blog
:
Pombo votes for Torture
(
source
)
MILLER/HOUSE DEMOCRATS
AGAIN URGE POMBO TO HOLD HEARING ON CORRUPTION AT INTERIOR DEPARTMENT
(
source
)
SNTP
:
Pombo: "My Friend Mercury"
(
source
)
SNTP
:
NRCC/Pombo Watch 2
(
source
)
Bush/Pombo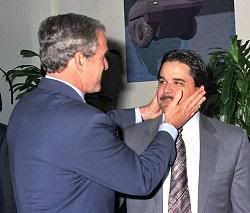 "
The president's approval rating is now lodged at 29 percent, the poll found, and 61 percent disapprove of his job performance. That's in large part because of Californians' concerns about the bloodshed in Iraq. Just more than one in four Californians approves of how the president is handling the war.

The governor's challenger, state Treasurer Phil Angelides, and the Democratic Party are trying to saddle Schwarzenegger with the president in the hope that Bush will be a drag on the Republican governor.

Not surprisingly, the governor will not appear with Bush when the president visits California on Tuesday. As Bush raises money for Republican Congressmen Richard Pombo and John Doolittle, Schwarzenegger will take part in bipartisan campaign events to promote a multibillion infrastructure package for rebuilding roads, schools and levees.
" (
source
)
ABC
:
Bush to Headline California Fundraisers for Pombo, Doolittle
(
source
)
CC Times
:
Bush approval plummets in California (29%)
(
source
)
Chicago Tribune
:
White House distances itself from Abramoff as report raises new questions
(
source
)
SF Chron
:
Bush heads to California, hitting hard at war critics
(
source
)
Other Campaign News
"
Each weekday, tens of thousands of former Bay Area residents drive west from their new homes in San Joaquin County to jobs in the East Bay and Silicon Valley.

Less expensive housing has lured them east, but the draw of higher-paying jobs west of the Altamont Pass keeps them tied to the Bay Area.

Nowhere has the area's growth been more pronounced than in Tracy -- the hometown of Rep. Richard Pombo, the Republican rancher and powerful House Resources Committee chairman making his bid for an eighth congressional term in a year when a Democratic, anti-incumbent wave seems to be building across the nation.
" (
source
)
Record
:
Pombo's race is state's toughest
(
source
)
Tracy Press
:
Million-dollar men march
(
source
)
SF Chron
:
Races heating up for 2 GOP incumbents
(
source
)
SF Chron
:
Political climate in Tracy changes with new voters
(
source
)
Record
:
Study touts alternative energy possibilities
(
source
)
Pombo Watch
:
Get out your calculator, Republicans lose voters.
(
source
)