Pombo's Fundraiser Cost Tax Payers Big Money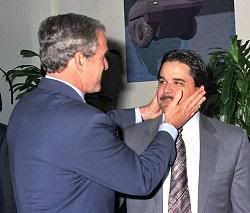 Record
: "
It's well-known that President Bush's appearance in Stockton last week helped Rep. Richard Pombo, R-Tracy, raise $400,000 for his re-election bid.However, taxpayers also helped make the campaign stop possible.That's because public funds were used to pay for some of the resources devoted to the highly orchestrated presidential visit, whether it was police on overtime designated for the president's visit or the school buses used as traffic barricades.Take the Stockton Police Department, for instance. About 250 members of the force, from officers to supervisors to parking enforcement personnel, helped coordinate security for the president's motorcade, his speech at the Stockton Memorial Civic Auditorium and his stay at the Radisson Hotel. Over two days, police employees logged 900 hours of overtime at an estimated cost of $54,000, according to city and police officials.What's less clear is whether tax dollars helped fuel Air Force One or clear out the top floor of the Radisson for Bush and his entourage...
" (
source
)
"
Including police, the city alone spent more than $70,000 providing assistance, city spokeswoman Connie Cochran said. For a roughly 20-hour trip, that comes out to about $3,500 an hour.
" (
more-at-source
)
You can
read more
about the costs of Richard Pombo's fundraiser to the tax payer
Here
.
Record
:
How much did Bush visit cost?
(
source
)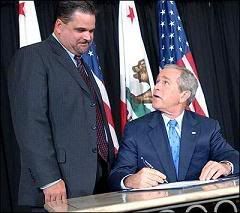 (
record
)
Pombo Has A History of Misusing of Tax-Payer Funds
whether it be for
Campaign Mailers, his Luxury Car, Propaganda Websites, Family Vacation's, Paid Leave & Travel for Staff, Etc.
,
Pombo's constituents pick up the tab.