Richard Pombo Does It Again & You Paid For It, Again.
The Record
:
Incumbency has its privileges for Pombo
(
source
)
"Rep. Richard Pombo, R-Tracy, recently mailed at taxpayer expense two glossy fliers to his constituents in San Joaquin County and the East Bay. They look like campaign mailers, and experts say they act like campaign mailers.

But they're not, at least in a legal sense. It's called "franked mail," and it is one of an incumbent congressional representative's mightiest weapons.

One mailer focused on Pombo's efforts to ease area traffic, the other on how much money he's brought home for police, fire and education.

Pombo's office declined to say how much the fliers cost or how many pieces it mailed. Such information is technically public but can only be determined by visiting the House Clerk's office in Washington, D.C.

A typical flier of the type Pombo mailed earlier this month costs about $35,000."
(
source
)
Here are some of Pombo's other tax-payer funded campaign style mailers.
The tax-payer funded Pombo flyer on transportation reads,
'Congressman Richard Pombo - Delivering Results to Alleviate Gridlock In The I-205/I-580 Corridor'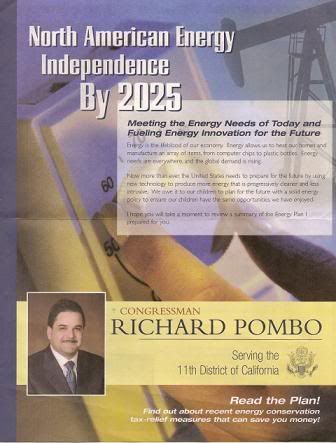 Here is a tax-payer funded flyer on energy policy. I
blogged
about this back in
March
.
*Photo courtesy of
Washington Post
. The full sized images of this mailer are available
Here on pages 4 and 5
.

Washington Post (10/13/04)
:
Bush Policy Gets a Ride on the House
Taxpayers Pay for Election-Year Mailing
(
source
)
"House Resources Committee Chairman Richard W. Pombo (R-Calif.) has launched an aggressive mail campaign -- at taxpayer expense -- to promote the environmental work of President Bush and a few vulnerable committee members in recent months.

This month Pombo mailed fliers to 100,000 residents in Minnesota, Wisconsin and a few western states touting the president's push for snowmobiling in Yellowstone National Park. Over the past year, he has sent similar fliers promoting the work of two western Republicans in competitive seats, along with a couple of mailings praising conservative California Democrats."
(
source
)
We're not just paying for his mailers. We're paying for his
luxery car
, his
vacation
, his
propaganda website
, and other
political activities
.
More on Pombo's bad habit from the
DCCC
:
"
Pombo Sent Partisan Mailing Paid for by Taxpayers Less than One Month Before 2004 Election. As chairman of the House Resources Committee, Pombo used taxpayer money to send out a partisan mailing less than a month before the 2004 election. The 175,000-piece mass mailing went out to residents of Minnesota, Montana, Wisconsin and Wyoming and highlighted the politically charged issue of snowmobiles in national parks. The mailing, which used Bush's name five times, vowed that the committee "and the Bush administration are working together to protect your right to ride" on public lands - phrasing that critics charged was intended to persuade voters rather than inform constituents. Recently, lawmakers slapped a $5,000 postage cap on all committees and tightened advance review rules. [Sacramento Bee, 3/17/05; Roll Call, 4/4/05; Contra Costa Times, 5/1/05]
Pombo Asked for Franked Mail Budget 800% Greater Than Any Other Committee. As chairman of the House Resources Committee, Pombo has asked for a franked mail budget of $500,000 for the 108th Congress - of which he received $100,000, an 800 percent increase over the panel's 107th Congress allocation. Recently, lawmakers have slapped a $5,000 postage cap on all committees and tightened advance review rules. Pombo's mail spending was the reason for the new cap. According to Congressional Quarterly Today, "the restrictions follow a partisan dust-up last year in which Democrats accused Resources Committee Chairman Richard W. Pombo of abusing his panel's franking privilege by sending favorable newsletters to the districts of Republicans in close races." [Sacramento Bee, 3/17/05; Congressional Quarterly Today, 4/21/05]
Pombo Granted Taxpayer-Paid Leave to Staff for Last Month Before 2004 Election. Pombo publicly gave most of his 45 committee employees a month of paid leave in October 2004, some of whom left to work on campaigns. While it was widely understood that most of his staff would be working on Republican campaigns, it was maintained the Republican staff would be working on field hearings. Regardless, the granting of excess leave makes Pombo susceptible to the characterization that he bilked the government and taxpayers out of hundreds of thousands of dollars. "There was no one who was given government salary to go work on a campaign," Pombo said. [The Hill, 10/6/04; Contra Costa Times, 3/26/05]Pombo's Staff Travel During Paid-Leave Period Covered by Taxpayers. While his staff was on paid leave in October 2004, the Resources Committee spent $6,000 on travel. Pombo's personal chief of staff was paid $1,851 for "travel subsistence" during the last weekend of October. Moreover, the 2004 Republican Staff Director of the Resources Committee, Steve Ding, travels to and from Washington almost every week. Ding is a resident of Stockton, CA, and such a payment could be seen as a contravention of House Administration regulations. [Statement of Disbursements, Clerk of the House, 2004 4th Quarter; Contra Costa Times, 3/26/05]Pombo Used Official Committee Website for Partisan Attack on John Kerry. After John Kerry had become widely viewed as the presumptive Democratic nominee for President, Pombo posted a prominent press release attacking Kerry in a partisan and political manner, referring to Kerry as a presidential candidate. [Committee on Resources Website, 3/11/04]
" (
source
)