McNerney Wins!
The Results
"Incumbent Rep. Richard Pombo, R-Tracy, appears headed for a rematch against his 2004 opponent, Democrat Jerry McNerney.
Pombo beat challenger and former congressman Pete McCloskey Jr. with 62 percent of the vote compared to 32 percent.
McNerney, a Pleasanton wind engineer, triumphed over Danville pilot Steve Filson 53 percent to 28.5 percent." (
source
)
""I can't think of any of (my) 32 percent who will vote for Pombo in the fall," McCloskey said Wednesday, adding that "the best thing that can happen for the country now is for the Democrats to take over the House."" (
source
)
"McCloskey's votes, combined with those taken by Filson and McNerney, added up to more than Pombo received." (
source
)
Next Stop: November
Contra Costa Times
:
Pombo, McNerney headed for rematch
(
source
)
Tri-Valley Herald
:
Pombo faces an 'uphill battle'
(
source
)
Jerry McNerney (vs. Steve Filson)
"McNerney...easily beat United Airlines pilot Steve Filson for the Democratic nomination. Filson was backed by top House Democrats including Minority Leader Nancy Pelosi, D-Calif., but McNerney had the grassroots support." (
source
)
Jerry McNerney
:
Thank You!
(
source
)
McNerney for Congress
:
We won!
(
source
)
The Hill
:
DCCC-BACKED FILSON LOSES
(
source
)
Richard Pombo (vs. Pete McCloskey)
"Richard Pombo is whistling past the graveyard this morning.
He won his Republican primary
and barely made the 60 percent margin that causes the media to view the victory as solid -- 62.5 percent. But almost 40 percent of the Republican voters chose either environmental hero Pete McCloskey, who moved into the district to run and called himself "a carpetbagger," or the third candidate, Tom Benigno, who framed himself as a local Republican alternative. Worse, Pombo's vote total -- 29,000 votes -- was actually less than that of his two Democratic opponents combined. So Democratic winner Jerry McNerney wins in November if he can hold the Democrats (which should he should) and also get more than half of the anti-Pombo Republican vote. Pombo, on the other hand, wins only if he can earn back more than half the voters who went for McCloskey -- not an easy lift.
In the primary, the Sierra Club used mail, radio ads, and door-to-door conversations to tell Republican voters about Pombo's dismal environmental record, showcasing his efforts to open up Northern California's coasts to oil drilling, his push to sell off our National Parks and Monuments to developers, his attempts to undermine the laws that protect our nation's wildlife and their habitat, and the fact that he recently took over $200,000 in campaign contributions from the oil industry.
Clearly, the people of the 11th Congressional District heard us." (
source
)
"House Resources Chairman Richard Pombo turned back a primary challenge from former representative Pete McCloskey in Northern California's 11th Congressional District, 62%-32%. When another Republican with Abramoff ties, former House majority leader Tom DeLay, got the same percentage of support in his March primary, he decided it was a signal he'd have trouble in November and ended his political career. Pombo is "in trouble," San Jose State University political scientist Terry Christensen said." (
source
)
""The result shows a serious vulnerability, but no more than that," Bruce Cain, a political science professor at the University of California at Berkeley, said Wednesday. "At a minimum, it means that the Republicans will have to put money into this race, which they certainly did not want to do."" (
source
)
Contra Costa Times
:
Rep. Pombo beats moderate ex-lawmaker in primary
(
source
)
Carl Pope (Sierra Club)
:
Pombo Dodges the First Bullet
(
source
)
Around The Blogosphere
"We got back to HQ at 8, and already AJ the campaign manager was getting early results over the web. Volunteeers and staffers crowded around AJ to see the latest results. Very soon afterwards, we started getting
encouraging results
. After idling for a bit, and trying to eat some snack food since I had not had dinner yet, people started migrating to the
Main Street Brewery
in Pleasanton, where the victory party was scheduled; it was decked out with a podium and curtain in the corner for Jerry to address the crowd. By the time we got there, it was clear that it was indeed a victory party. The results were coming in, and they were looking good for McNerney...Plenty of cheers (especially when the latest results would flash by on the ticker on the TV monitor), high-fives, and hugs all around.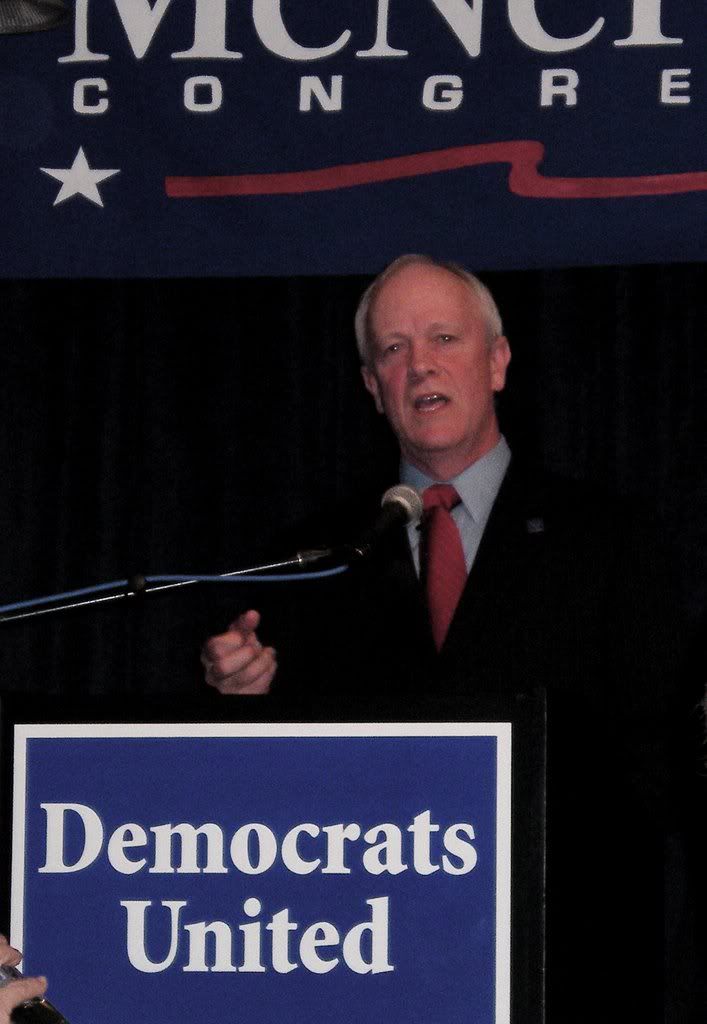 (
photo source
)
Jerry was introduced by his son Mike, who recounted the story of his first write-in vote for his dad in the 2004 election, and the phone call to his dad which kicked off Jerry's 2004 candidacy. Jerry gave a warm, wonderful off-the-cuff thank you speech ("I brought this prepared speech. Should I read it? Nah..." as he crumped up the papers in his hand and throw it out to the audience)." (
source
)
A Progressive Alamedan
: Not a bad election! (
source
)
DailyKos
/
Calitics
: CA-11: Jerry McNerney, California's Jon Tester and a big win for California's netroots (
source
/
source
)
Other Wins For The Grassroots/Netroots
"In Montana, state Sen. Jon Tester walloped state Auditor John Morrison for the right to take on Sen. Conrad Burns (R) in the fall. Tester took 61 percent to 35 percent for Morrison..." (
source
)
"State Treasurer Phil Angelides used the support from the Democratic Party establishment and organized labor to eke out a 48 percent to 44 percent victory in the gubernatorial primary over state Controller Steve Westly, who spent tens of millions of his own money on the race." (
source
)
"State Sen. Debra Bowen, D-Marina Del Rey, handily defeated Ortiz 61 percent to 39 percent." (
source
)