ANALYSTS, POLLS FORECAST MCNERNEY VICTORY - GOTV!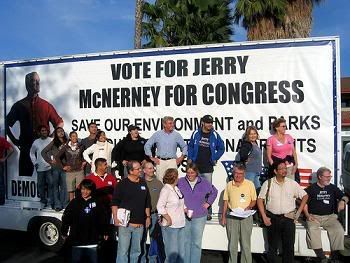 FOR IMMEDIATE RELEASE
McNerney for Congress
:
ANALYSTS, POLLS FORECAST MCNERNEY VICTORY
Washington Post names Pombo's campaign one of the country's 10 worst
"
University of Virginia political professor and national election analyst Larry Sabato today noted "momentum is firmly in McNerney's court" and predicted Jerry would tomorrow defeat incumbent Republican Richard Pombo. On Friday, the National Journal's Chuck Todd likewise foretold a McNerney win.

"As I meet with moms and dads, students and veterans, teachers, doctors, and farmers throughout the 11th Congressional district, I hear one message loud and clear" said McNerney. "Voters want a change. But George Bush and Richard Pombo are satisfied with the directions in which America and Iraq are headed. I want to take us in a new direction and work with Democrats and Republicans to help the people of California, not lobbyists in Washington."

Inspired by President Bill Clinton's visit to Stockton on Tuesday, 1,287 McNerney supporters on Saturday and Sunday contacted more than 35,000 voters throughout the 11th Congressional district. Since the start of October, McNerney's people-powered campaign has raised more than $1 million. Last week, McNerney began advertising on San Francisco radio and television stations and boosted his advertising on Sacramento stations. McNerney's latest television advertisement is titled " A New Direction for America."

The Stockton Record on Sunday reported that independent, unaffiliated voters in San Joaquin Valley, Pombo's traditional stronghold, are supporting Jerry McNerney by a 2-to-1 margin. The Record's survey follows last week's release of the first and only independent poll of the race, which showed McNerney ahead of Pombo by a 48 to 46 margin 'despite Constituent Dynamics' significant overpolling of self-identified Republicans and underpolling of self-identified Democrats.

The Washington Post last week ranked Pombo's operation as among the 10 worst-run incumbent campaigns in the country. As NBC 11 reported in October, Pombo for weeks refused media interviews and scheduled few public events. McNerney this weekend received several high profile endorsements. On Sunday, Robert Redford called voters on Jerry's behalf and Michael J Fox announced his support for Jerry. On Saturday, Robert Trent Jones Jr. canvassed with McNerney.

###

Jerry McNerney is a nationally recognized expert in wind engineering and renewable energy, with a PhD in mathematics. During his career in wind energy, McNerney's work contributed to saving the equivalent of approximately 30 million barrels of oil, or 8.3 million tons of carbon dioxide ˆ the main greenhouse gas ˆ as well as other harmful pollutants. The Democratic nominee for California's 11th Congressional District, Jerry has been married for 29 years and has three grown children.
" (
source
)
Bob Novak Agrees.
GET OUT THE VOTE for Jerry!
http://www.jerrymcnerney.org/GOTV
Phone From Home!
http://join.jerrymcnerney.org/phonefromhome
Make a contribution online
https://www.jerrymcnerney.org/contribute
Tell your friends and family about Jerry McNerney's candidacy.
http://www.jerrymcnerney.org/spreadtheword
Join Jerry at our Election Night Party! (w/ photos)