FEC Reporting Deadline Today, McNerney Close To Giving Pombo The Boot!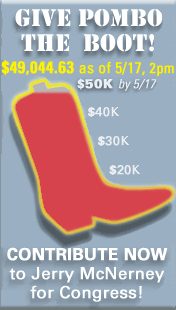 Jerry McNerney's Blog
: "According to a poll just released, Jerry McNerney would defeat Richard Pombo, if the general election were held today. The poll, conducted May 1-3, shows McNerney leading Pombo 46% to 42%." (
source
)
Jerry McNerney's Blog
: "
Click here right now to show the pundits and power-brokers that we can give Pombo the boot by helping us raise a total of $50,000 by WEDNESDAY, MAY 17 -- the next FEC reporting deadline.
" (
source
)
To Contribute go to
JerryMcNerney.org
or use
ActBlue.
*Update (as of 2pm) - Only 6 hours to go -- Kick the Boot for Jerry!
"The numbers are in -- the boot is at a staggering
$49,044.63
as of 2 pm. What a wonderful showing of support!
Jerry is overwhelmed by your generosity. He has been beaming about it all day!
We've still got 6 hours left. Can you put us over the top?
I'm absolutely amazed.
You are less than $1,000 away from blowing past our most ambitious goal of the campaign. If you are arriving home right now and checking your e-mail, please kick the boot before midnight!
http://www.jerrymcnerney.org/contribute
On Thursday, Jerry will be sending everyone a special message that will provide an update on the boot as well as details on what you can do in the last 19 days to win the June 6th Democratic primary so we can send Pombo packing in November!" (
source
)