Bring Back Bush: McNerney outraises Pombo, asks President to again help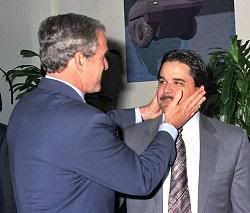 FOR IMMEDIATE RELEASE

THURSDAY, OCTOBER 26, 2006
BRING BACK BUSH


McNerney outraises Pombo, asks President to again help "desperate" incumbent
"
Jerry McNerney today called on President George Bush to return to California and campaign on Richard Pombo's behalf. According to fundraising reports filed today with the Federal Election Commission, McNerney outraised Pombo during the first 18 days of October. McNerney collected more than $416,000, boosting his election cycle total to nearly $1.6 million. Pombo raised about $343,000 for the period, more than $50,000 less than he had purportedly received from an early October fundraiser with President Bush alone.

"Jerry McNerney is proud that small, individual contributions have helped his people-powered campaign outraise Richard Pombo's lobbyists and President Bush's friends," said McNerney communications director Yoni Cohen. "The latest fundraising reports and campaign emails show that Pombo desperately needs more of George Bush's help. Jerry McNerney hopes the President returns to California and reminds voters that both Bush and Pombo are satisfied with the lack of ethics and integrity in Congress, and with the directions in which America and Iraq are headed."

Pombo this week sent an email noting he "desperately" needs assistance. McNerney's campaign continues to build momentum and has nearly $330,000 on hand.

In October's first 18 days:

• 2606 people contributed to Jerry McNerney's campaign• 98% percent of contributions came from individuals• The average contribution was $139.15

###

Jerry McNerney is a nationally recognized expert in wind engineering and renewable energy, with a PhD in mathematics. During his career in wind energy, McNerney's work contributed to saving the equivalent of approximately 30 million barrels of oil, or 8.3 million tons of carbon dioxide – the main greenhouse gas – as well as other harmful pollutants. The Democratic nominee for California's 11th Congressional District, Jerry has been married for 29 years and has three grown children.
" (
source
)
SSP
: "CA-11: Jerry McNerney (D) - $417k raised, $330k CoH; Richard Pombo (R) - $351k raised, $1.05m CoH" (
source
)
From Jerry: The Final Push...